Veronica A. Procter
ATTORNEY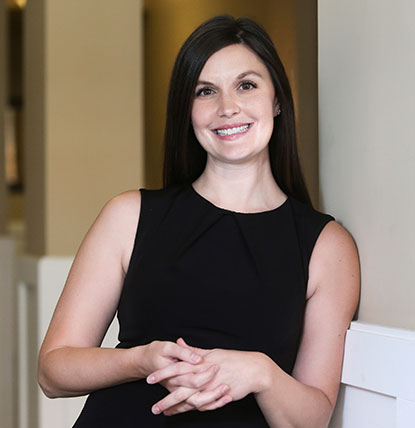 Veronica A. Procter was born and raised in Billings, Montana. She graduated from Billings West High School before pursuing an economics degree at the University of Arizona in Tucson, Arizona. In 2011, Veronica obtained her law degree from the University of Montana. Veronica began practicing law at Matovich, Keller & Murphy, PC, primarily focusing on personal injury defense, insurance matters, commercial litigation, employment law and veterinary malpractice. Her clients were often corporations, insurance companies, and business interests.
In 2014, Veronica opened Procter Law, PLLC, to advocate on behalf of ordinary people and better serve the community. Veronica focuses her current practice on representing adult and child victims of serious injuries and wrongful death. She also stands up for clients in cases involving sexual abuse/assault, civil rights violations and wrongful termination.
Being a plaintiff's lawyer is not for the faint of heart; it involves fighting for the rights of the "little guy" against the powerful. Veronica is passionate about being on the front lines of our justice system, where she preserves the rights of individuals who have been harmed by people, institutions and companies that engage in reckless or illegal conduct. A by-product of this work is that it benefits society as a whole. Large verdicts and settlements are the result of unsafe behavior. When defendants face consequences for their actions, that influences positive social change.
In her previous work in insurance defense, Veronica gained valuable insight on strategies utilized by defendants. This depth of experience has made her a better plaintiff lawyer and trial lawyer because it allows her to anticipate possible defense strategies and plan accordingly.
Veronica has argued before the Ninth Circuit Court of Appeals and successfully tried jury and bench trials in state and federal court. She is admitted to practice in all Montana and Wyoming state courts, the U.S. District Court for the District of Montana, the U.S. District of Wyoming and the U.S. Court of Appeals for the Ninth Circuit. Veronica is a member of the Yellowstone Area Bar Association, Montana Trial Lawyers Association (Board Member), State Bar of Montana, State Bar of Wyoming and American Association of Justice (Revitalization Governor).
Veronica also serves on the Board at St. Vincent de Paul and coaches the mock trial team at Billings West High School.